Cowley provide commercial boilers for Schools and Colleges
Schools and Colleges
Heating for schools and colleges can be a complex topic, with many different types of rooms requiring different forms of heating. For example classrooms for younger children need low surface temperature system and no hot to touch pipework. Then there's sports hall's where large space heaters are required but the temperature only needs to reach 18°C.
Health and safety when working in schools is also one of the most important parts of the projects. Where possible, it is best for works to be carried out during holidays when there are no pupils around. However this is not always possible and great care should be taken to ensure working areas are kept out of bounds.
There are many regulations, such as BB101 and BB93, that school heating systems must comply with. These are mainly health and safety requirements such as ensuring there is CO and NG detection where there are appliances or flues near occupied areas.
It is imperative that all equipment installed in schools is durable and high quality. School heating systems are susceptible to playful mischief and we've seen to many schools with bent pipework, radiator valves hanging off etc. This not only effects the efficiency but it some cases leaves classrooms stuck on heat or freezing cold.
Controls are one of the most important parts to a school heating system. The control system is going to have the greatest impact on the efficiency of the system and ensure that optimum comfort levels are maintained.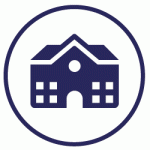 We provide Commercial Boilers for Schools and Colleges, in London, Surrey, Sussex and Kent